Heartburn
NERD-301 Clinical Research Study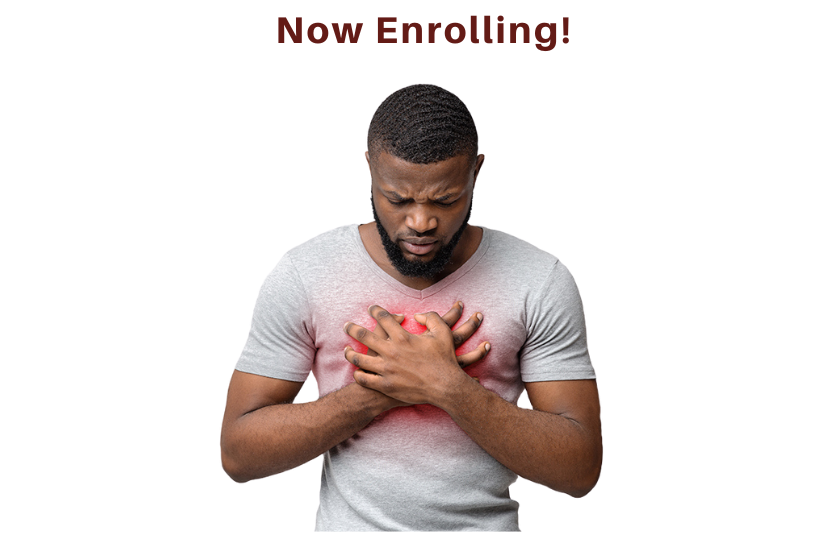 Are you an adult with Non-Erosive Gastroesophageal Reflux Disease (NERD)
Experiencing Heartburn for 6 months or Longer?
If yes, you may qualify for this clinical trial.
Sign up today to see if you qualify for this study.
About the NERD-301 Study
Study Name: NERD-301
Primary Investigator: Jacque Noel, III, MD
Study Site: Combined Gastro Research
Location: Lafayette, LA
NERD (Non-Erosive Gastroesophageal Reflux Disease) is a disease that causes occasional heartburn (called "episodic heartburn"), a burning sensation in your chest and throat without erosions or wearing away of the inner lining of the esophagus. The standard treatment for NERD is currently the use of a class of medications called proton pump inhibitors (PPI).
The purpose of this study, which involves research, is to determine whether the investigational drug, vonoprazan, is safe and effective in the potential treatment of this disease compared to a placebo. The placebo looks like the investigational drug, vonoprazan, but does not contain any active substance. An investigational drug is one that is not yet approved by the United States Food and Drug Administration (FDA) for use in this country. Researchers often use placebo to see if an investigational drug works and is safe.
Vonoprazan has been approved in 16 countries in Russia, Asia and Latin America for treating a number of diseases including erosive esophagitis (damage and inflammation of the esophagus) healing and maintenance, gastric ulcer healing, duodenal ulcer healing, prevention of recurrence of peptic ulcer associated with nonsteroidal -anti-inflammatory drug (NSAID) or low- ose aspirin use, and eradication of Helicobacter pylori (H. pylori) infection. Vonoprazan has not been approved for treating episodic heartburn due to symptomatic NERD. Across the world, vonoprazan has been used to treat an estimated more than 68 million patients since it became available in 2015. It is not yet approved by the United States FDA and hence is still considered an investigational drug in the US. As of June 2021, vonoprazan has been evaluated in clinical studies in more than 7,700 people for various conditions, and the results have been favorable.
Can you participate?
A study doctor will need to review your medical history and carry out some additional health checks before deciding whether this study is right for you. You may be able to take part in the NERD-301 Study if you:
Are 18 years of age or older
Have been diagnosed with Non-Erosive Gastroesophageal Reflux Disease (NERD)
Have you been experiencing heartburn for 6 months or longer
If you would like more information about the NERD-301 Study, please fill out the NERD-301 Clinical Study Signup Form on this page. All information collected will follow federal regulations called HIPAA while protecting your privacy.
What is a clinical research study?
A clinical research study is a medical investigation that is designed to answer specific questions about potential new drugs (called "investigational drugs"). These questions may include how safe and effective an investigational drug is for use in a particular condition or disease. 
Every medication that you have been prescribed by a doctor will have undergone  rigorous testing in clinical research studies. Without clinical research studies,  there would be no real medical advances and no new treatment options would  become available. 
Taking part in a clinical research study is a big decision and your participation is voluntary. It is important that  you understand what participation will involve before you agree to take part.